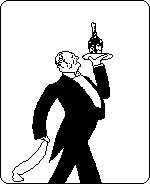 Water Cooler

Submitted Jan. 24, 1997
Hollie
From Columbus, Ohio



My boyfriend and I work at TGI Friday's in Columbus. Frequently, we are forced to wait on people who wouldn't know good etiquette if they shoveled it into their mouths. One day my boyfriend, Keith, was dropping off two salads with Italian dressing to a table of three. The two women at the table claimed the salads and as Keith was asking them if they wanted "fresh ground pepper" the man suddenly declared "I need a water!" Keith, used to such interruptions,was nonplussed. He ignored the man and attempted to again ask the women whether they wanted pepper. They said they did, and as Keith was grinding the pepper onto the women's salads the man bellowed, "I need a water!" Keith didn't say a word in response. He asked if there was anything else the table needed, besides water, before he left. They said they were fine.


Keith got the man a water and set it on the table. He then stood and waited. The man looked at the water but didn't say a word. Keith waited about thirty seconds for the man to say something, and when he didn't even acknowledge the existence of the beverage Keith picked it back up, walked to the bus stand, dumped it out, and walked away.


Do you have a great restaurant story you would like to share?
Then upload here.





Back to The Waiter's RevengeHome Page