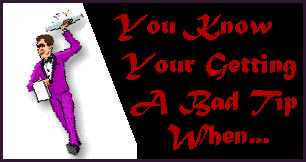 Guest asks to split a glass of water, no ice
Guest needs a doggie bag for the left-over bread they didn't eat
Guest wonders if you have samples of wine, like they have samples of ice cream at Baskin Robbins
Asks, "Is this all you get?" each time a new course is brought to the table
Asks, "Are refills free?" When the answer is yes, sucks down the beverage right in front of you, then asks for another
Guest says, "I'm only having a cup of soup, I'm saving room for dessert."




Wants to know if it's OK to split a beverage and/or entree amoung five people
The adults at the table are discussing in great length the variety on the kids menu
Guest asks for a doggie bag, and it's a buffet
Guest wonders if you could "Super-Size" their twenty-five dollar entree
Wants a free cake to celebrate Uncle Jimmy's parole
Wonders if they provide spittoones as well as ashtrays in the smoking section




Guest says their doctor put them on a strict diet--No entrees over six dollars
Wonders if they get a discount for using their own silverware
The less teeth in the mouth...the less money on the table
They give you a $100 bill, and they look like that might be their entire paycheck (W. Scott M.)
The customer begins to empty his penny loafers (R.T.)
The guest is seated in your station with a Gift Certificate proudly sticking out of their shirt pocket (Gerald S.)




They refuse to remove their "Bass Pro Shops" ball cap throughout the dinner (Once again: Gerald S.)
When it is time to pay the bill, the guests one by one leave for the restrooms until their is only one left to settle the tab (Terence)
The more praise the waiter gets, the less money they recieve (William G.)
The older the payer of the bill, the less the tip(William G. part 2)
You hear the guests talking about how they used to wait tables, and they can't believe how awful the service in restaurants has gotten these days...(Dan R.)
You see them shuffling credit cards saying, "That one won't clear, that one won't clear..."(Kimberley Y.)




Two words: Prom Night
All they have to pay for their meal is a roll of pennys (Wrad Man44)
A table of two asks if the refills are free, then proceeds to order 1 drink with 2 straws. (N. S.)
Your customers have an English accent. (Gary M.)
Well-done steak, Thousand Island dressing, sweet tea, all at the same table. (Pamela)
Your customer's suit smells of mothballs. (Andrew)




When a guest asks, "Do ya have any specials?" (Laura)
Your customers spend all their time talking about latest million dollar deal. (Ian)
The customer says, "Ya got any Pabst Blue Ribbon in a can?" (Hollie)
Your table spends more time praying before the meal than it actually takes them to eat the meal. (Tony C.)
When you pass your table and someone asks, "What's 10% of $144.00?" and the person next to them then answers, "I think its, like, $9.00 or something..." (R. S.)
A party of 18 asks for separate checks




Every time you approach the table with a particular request, they have five more to keep you running. After all, they are your ONLY table.
You have a table with two 15 year old couples, and they giggle when they order the chicken breast. And they belch after they drink their Shirley Temple (the fourth one in 10 minutes) because they think they are just plain cool!
When someone comments that the steak knife looks like OJ used it. Then they steal it.
Dyed blue hair, polyester, and smiles with lots of teeth.
Buy One, Get One FREE.
When they ask for french fries with their Steak Dianne. (Matt M.)




When they eat the garnish, and it's a silk flower. (Matt M.)
When they claim a four star restaurant is not quite as good as the Sizzler. (Matt M.)
When they ask where the pisser is. (Matt M.)
When you give your customer a finger bowl with their frog legs and they call you back five minutes later and say, waiter your lemon soup is very weak can I get another one. (Andrew)
When your table spends about twenty five minutes figuring out who owes what on the check. and they also said "Oh My God!" after one look at it. (Jenn)
The guest wants to know if that is all they get for $7.25. (Jill)




When the complimentary chips and hot sauce are the appetizer, and the guacamole is the main dish. (Mike)
When an elderly couple walks in and asks if there is a Senior Citizens Discount. (Allison)
When the customers fight over the check, waving their "CORPORATE" credit cards in the air saying...."No, really, it's on me." (Mariann)
The Phrase; "You Where The Best Waiter We Ever Had!" (Rusty)
You Wait On A Couple, One Of Them Flirts With You And The Other Pays! (K.C.M.)
They ask if refills are free. (Jason A.)




They say "I accidentally got two forks in my napkin" (Jason A.)
They expect their food in 5 minutes like that other resturant with the golden arches. (Jason A.)
They order cokes before you can even say hello and end the conversation with "now" (Jason A.)
They ask for directions to the Elks Lodge. (Jason A.)
They ask what a ceaser salad is. Then when their salad arrives they ask "what the hell is that" (Jason A.)
You see them looking at that stupid tip card with the break down of how to leave 15-20% (Caitlin H.)




They tell you they're good tippers (Caitlin H.)
When the guest asks if she can tell you a way to make your life wonderful through prayer. (Kristin M.)
When there is a full moon! (Pam L.)
The customer takes out a tip card before they take out their credit card! (Pam L.--She Shoots! She Scores!)
When the customer doesn't order anything to drink except water and also asks for a plate of lemon wedges and more sugar packets to make their own lemonade at the table for free.  (Sue)





Any additions to the list? You can upload here.