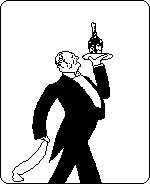 McGhost In The Machine

Submitted Jan. 29, 1997
Anonymous
From Los Angeles, California



This is a prank that me and another manager pulled on this extremley spaced out manager named Stuart while working in a McDonald's restaurant.
We made up this story about an employee that had died and came back to the restaurant to haunt it. Which Stuart fully believed.
Our register system had the ability to change the description of items that were rung up at any time of the day. As you probably know when a customer places an order at a Fast Food restaurant thier order pops up on a monitor for the assembly people to read and assemble. So we could therefore change the name of item so that we could make the list of items appear to the assembly person as anything we wanted it to say. Normally, it looks something like this


BIGMAC

LGFRIES

LGCOKE
So, we programmed some keys to make the screen say:


STUART

I CAN

SEEYOU
Stuart freaked out, and started pulling customers into the Drive Thru booth to show them (which we had already removed). They all thought he was insane. After he calmed down and went back to work we popped another message up.


STUART

CHECK

YOUR

CAR!
Stuart promptly ran out to his car. A few minutes earlier we had placed a complete meal in a to go bag on the hood. He brought the bag back into the store came up to me and asked "Can I take my break now, the spirit want me to eat this", I said sure and he went and ate his food.
Later when it was near time for Stuart to go home again we reprogrammed the keys to say:


STUART

DON'T

GO

HOME!
Stuart was beside himself, He wouldn't leave he sat in the lobby until closing time. We talked to him and told him, go ahead and go home there is nothing to worry about but he wouldn't go. We found him sleeping in his car the next morning.
Poor guy.


Do you have a great restaurant story you would like to share?
Then upload here.





Back to The Waiter's RevengeHome Page