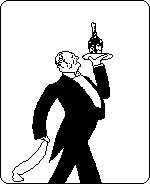 Dressing For Success

Submitted Jan. 9, 1997
Kim
From Ft. Lauderdale, Florida



I work in a busy bistro type restaurant, the type where ladies do lunch. Just today I had a party of three women. The kind who want to know your name right away - so they can shout it across the room, of course. They all order some type of salad, dressing on the side. One of the women decides she would like to try another dressing and yet another. This goes on for a few dressings until she asks for a side of mayo. This was the winning dressing. She would not let us take any of the other dressings off the table, lest she change her mind!
On the way out, a looong time later we had the privledge of seeing the same woman make what she liked to call her "frog face". She whipped out her dentures and curled her lips in a very unnatural way. Good thing I had already eaten my lunch.


Do you have a great restaurant story you would like to share?
Then upload here.





Back to The Waiter's RevengeHome Page