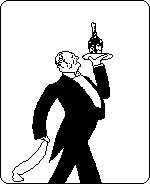 Napping On The Dash

Submitted Sept. 28, 1997
Drew S.
From Waterloo, Ontario



I am the G.M. at a very popular restaurant in Waterloo.

Last night five young (high school) kids came in for a bite around 12:30p.m. My star server (Tammy) was the only one on at that time other than bartenders, cooks and myself.

These kids ordered their burgers and wings and drinks. Tammy noticed that these guys were a bit crowded in the booth so she took one of their nap sacks and but it in the booth behind them. I went downstairs to check on the bartender for 2 minutes and when I was walking back up I saw Tammy running out the front door.

The bastards had dined and dashed.

Tammy tried chasing them but to no avail. When she got back she was ticked off. Now your all thinking "another bad ending to the story" ... remember the nap sack? The kids didn't... We called a phone number we found inside, woke up one of the kids parents, told mommy we were going to press charges against her darling son if she did not get her ass out of bed and come pay the tab. She was their in a flash and guess what Tammy got a $50.00 tip out of it.

HERE'S TO ALL YOU SERVER'S OUT THEIR.


Do you have a great restaurant story you would like to share?
Then upload here.





Back to The Waiter's RevengeHome Page