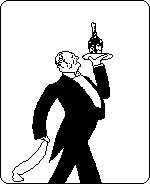 Had To Say It

Submitted Feb. 10, 1997
Fast Eddie G.
From Lexington, Kentucky



While working as a bartender at The "World Famous" Two Keys Tavern in Lexington, KY They told me it was world famous when I hired on. One Night a young college student came out of the pool room and complained that he had lost $.50 because his balls did not descend.

I asked him if he had seen a proctologist.

He laughed and walked away.


Do you have a great restaurant story you would like to share?
Then upload here.





Back to The Waiter's RevengeHome Page