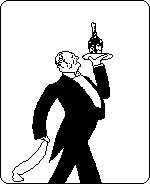 There Is No Way Like Amway

Submitted Feb. 25, 1997
Anonymous
From Atlanta, Georgia



A particular memorable banquet I served was for an Amway convention. Some of you may know what these are like. I had 3 tables of 10 who needed tons of extra this and that all night, including ice tea for everyone. I can usually fit about 25 glasses on one tray, and this night I crammed 30 to save time. Before I made it out the door, someone knocked into me, and spilled all the ice tea ontop of me. By that time I was so far behind, I just went into the dining room to begin clearing the appetizers. The next thing I know someone says; "Hey, where's my Ice Tea?"

I was so pissed at the situation and my soggy shoes, I said "Hold out your glass-- I'm wearing it!"

To top off the evening, thier program began while we were still clearing plates, and these people are so finatical that they began jumping up and knocking over lots of traystands in the room -- still filled with dirty plates and food.


Do you have a great restaurant story you would like to share?
Then upload here.





Back to The Waiter's RevengeHome Page